Table of Contents
---
Crotch Rocket Bicyles
Crotch Rocket Bicyles was started in Santa Barbara, CA in 1983 by Terry Marchiando, who hand made aluminum bicycles locally before offshoring to Taiwan. In 1985, Terry moved the company's address up the road to Goleta and continued there until 1988 1).

Data from archive.org, bizapedia and mombat.

Goleta was also home to the perhaps related Crotch Rocket Factory, a motorcycle component company active during the same period. Terry may have been employed there (?):
Marchiando was designing aluminum motorcycle parts and racing motorcycles when he became interested in the new sport. In 1980 he built his brother a mountain bike out of aluminum tubing that lay scattered around his yard. He grew to like the new sport because it "seemed environmentally conducive to this new age we're in." By 1983 he was making limited quantities of aluminum frame bikes. 1987 Santa Barbara Magazine, archive.org
---
1983 AL2 All Aluminum
SunTour MounTech GTL rear (1982-84), Le Tech front (1982-85)

This is frame #2, using BMX style forks, looptail rear, bmx bars & vertical dropouts.
The component dates are ambiguous, but multiple sources list a 1983 start date: 1985 Bicycle Guide mombat and the 1987 Santa Barbara Magazine archive.org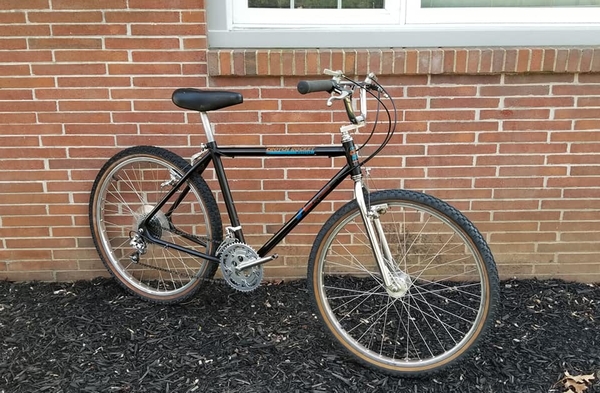 1983 AL2 facebook
---
1984 AL2
SunTour MounTech 4900 rear (1982-85), Le Tech front (1982-85)

Although the pic comes from a 1985 Bicycle Guide review, it's likely a 1984 as their 1985 catalog shows XC components.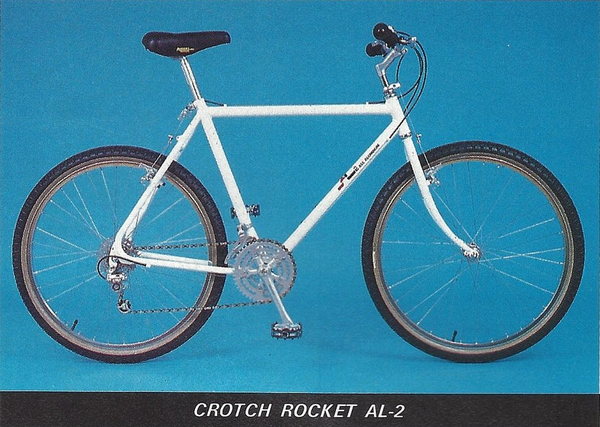 1984 AL2 bikeforums
---
1985 AL2
SunTour XC derailleur (1984-85), shifters (1984-89)
The 1985 catalog shows the switch from MounTech to XC.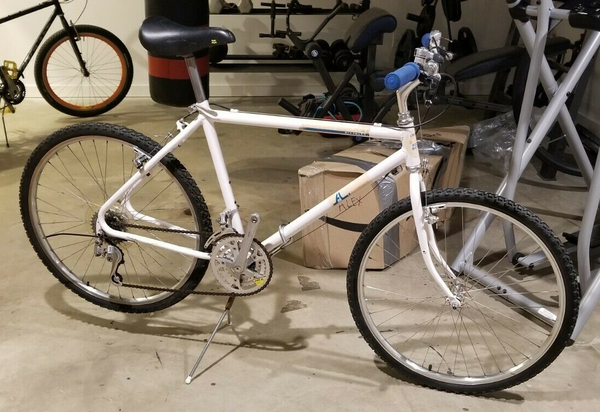 1985 AL2 ebay
---
1986 AL2
Repainted, so the dating is very unreliable.

SunTour XC derailleur (1984-85), shifters (1984-89), SunTour CB-6100 XC rollercam brakes (1984-86)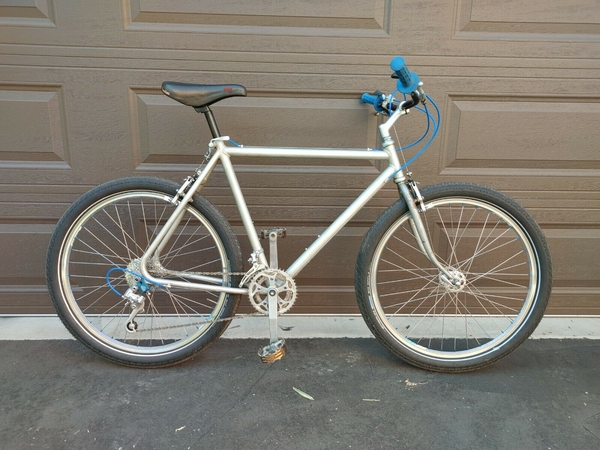 1986 AL2 ebay
---
1987 AL2
Pic from the Nov/Dec 1987 issue of Mountain Bike magazine.

No clues from the pic on components - other than they seem black. By 1987, no one produced a black rear derailleur cage with a black body. Reflection? Photo touchup? Now, all derailleurs seem to be all-black.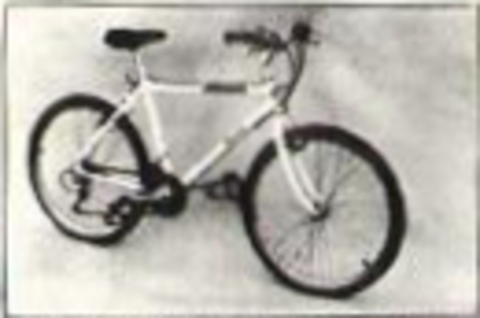 1987 AL2 cbklunkers
1)
The last ad for Crotch Rocket is from the Nov/Dec 1987 issue of
Mountain Bike
magazine.
crotch/start.txt · Last modified: 2022/06/08 11:04 by mtbtimeline
---