Table of Contents
---
F. W. Evans
F. W. Evans Cycles was first opened on Westminster Bridge Road, London, by Frederick William Evans in 1921. They built Evans branded frames for a single shop before their expanding their brand with franchising in the 1990s to over 50 locations. 1) The brand continues today with 50 stores. 2)

Starting in 1984 F. W. Evans started to sell mountain bikes, whose origin is intertwined with the creation of Saracen Bicycles. In 1985, F. W. Evans advertised the Saracen Conquest (which was being sold separately by Saracen) as being designed by Evans.
For the February 1983 [Saharan bike trek] expedition, Charlie Kelly in the US sent two Ritchey Montare mountain-bikes to Richard Ballantine in London. Ballantine took the bikes to F.W. Evans shop at the Cut, near Waterloo station to be prepared for the ride, racks fitted etc. F.W Evans manager Gary Smith was so impressed by the bikes that he decided to have copies made to sell in his shops. I can only assume that he approached Brian Staples. Graham John Wallace retrobike
Saracen claims to have started selling their mountain bikes in 1983, but no reliable examples have been brought to light. Certainly, both Saracen and F. W. Evans used the same frame builder, as they both are equipped with Knight Fabrications Saracen stickers and unusual frame features. Evans claims to have designed their own mountain bikes, so it will be useful to compare Evans and Saracen models carefully.
"When I went into the F.W. Evans shop in London in early 1984 there were no mountain bikes in the shop. So I asked them if they knew anything about mountain-bikes, and they told me that they had designed a mountain bike and were expecting the first delivery of bikes in a few weeks time." Graham John Wallace retrobike
Evans stopped their own brand of mountain bikes bikes by 1987. They continue to sell the "own brand" of Pinnacle bicycles, which they started in 2006.

Info from wikipedia, Evan's Cycles, classlightweights, waymarking, gracesguide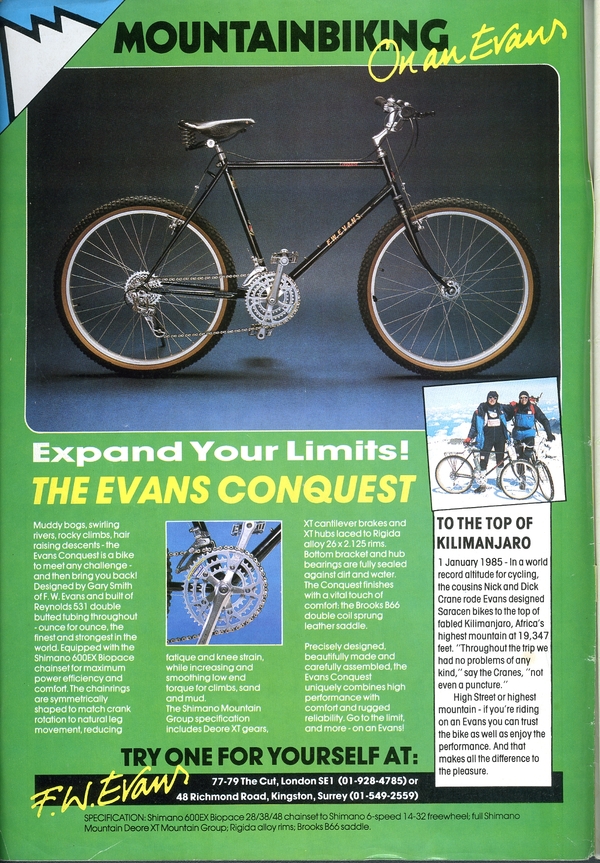 "Evans designed Saracen mountain bikes"
advert from Bicycle Action Magazine, June 1985
retrobike
---
1984 F. W. Evans
SunTour MountTech RD-4900 (1982-1984), F. W. Evans decals (no Knight stickers,) doubled rear brake bridge, Bluemels mud guards, lugged Reynolds 501 frame. No model name, but the receipt below states simply: "mountain bike." It's nearly identical to the 1984 Saracen except for the stickers (and some components.)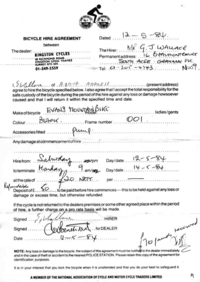 1984 receipt for the first Evans mountain bike, for G. J. Wallace.
retrobike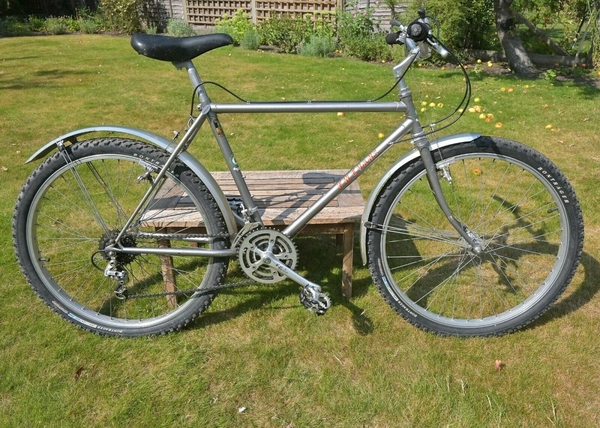 1984 F. W. Evans retrobike
---
1985 Conquest
Shimano 600EX chain set, XT derailleurs, lugged Reynold 531 frame, dual Knight/Saracen frame stickers, lugged frame, square fork crown, standard rear brake bridge.
[The] FW Evans Conquest early MTB - made from Reynolds 531 tubing and featuring @rideshimano Deer Head - was made in collaboration with and manufactured by @saracenbikes in Leamington Spa in 1985. Evans Cycles facebook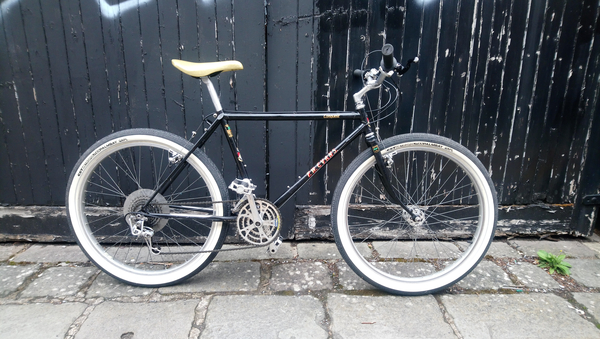 1985 Conquest imgur
---
1986 Conquest
Full Evans stickers, lugged Reynolds 531 frame, standard brake bridge, bullmoose handlebars. No model name?

1986 Conquest retrobike
---
1987 Conquest
No reliably dated pictures of any F. W. Evans branded mountain bikes can be found after 1986. Do they exist?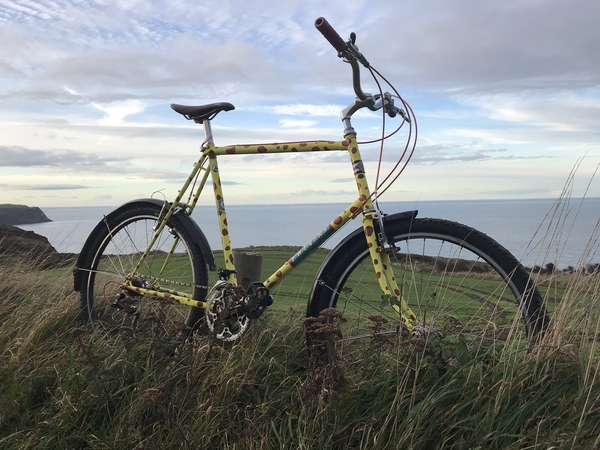 The missing link?
retrobike
evans/start.txt · Last modified: 2021/12/13 09:52 by gchandler
---