---
FMSA California
FMSA California is a good example of a bike brand almost too obscure to document. Only a single example MTB exists with a single picture.

It's likely FMSA California was a sub-brand of Fairly Bikes, a large Taipei based manufacturer founded in 1977 who also supplied the early Diamond Back MTBs. If so, then "FMSA" may be an abbreviation of Formosa, a synonym for Taiwan. Evidence for the Fairly connection includes the FMSA MTB being identical to the Diamond Back Trail Streak.

FMSA did produce a few BMX bikes from 1982-87. Ebay usually has a number of FMSA head badges for sale, perhaps indicating the badges are worth more than the underlying bicycle.
---
1983 MTB
Identical to the 1984 Diamond Back Trail Streak, except that the FMSA California has some earlier components.

Pump pegs, TIG welded, rear SunTour GT RD-1200 (1981-3 with this style), front Shimano FD-M700 (82-86), Tracer cranks (1983 in this style) 1), and SunTour LD-2800 shifters (1983-85).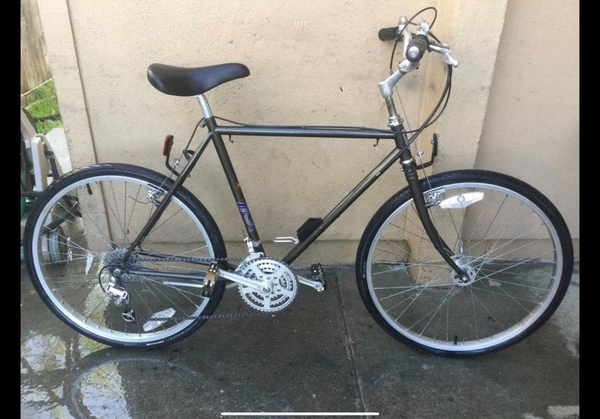 1983 facebook
1)
Tracer creates budget components, and this crankset can also be found on the 1983 Puch
Mountain Jet
.
fmsa/start.txt · Last modified: 2022/07/15 11:26 by mtbtimeline
---