Table of Contents
---
John Olsen
John Olsen of Seattle, WA constructed mountain trials bikes and only produced a couple of dozen mountain bikes on his own. However, he designed many other bikes such as the:
John Olsen is also a prolific author on all things bike related, including:
A regular column, "John Olsen's Trail," in Mountain Bike Magazine in the late 80's.

A regular column, "Ask Uncle Knobby," in Mountain Bike Magazine in the 90's.
Sources: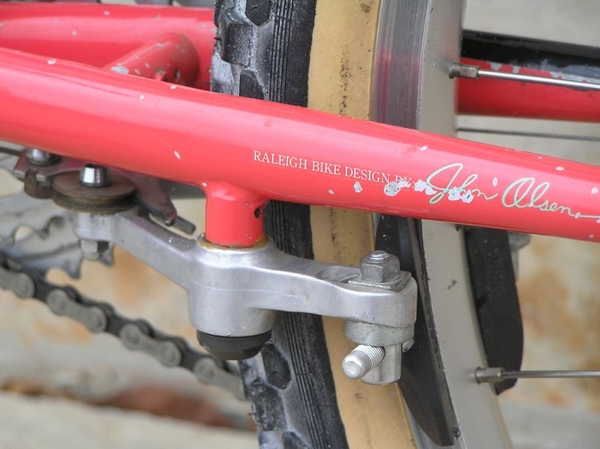 John Olsen signature on a 1987 Raleigh Edge. mombat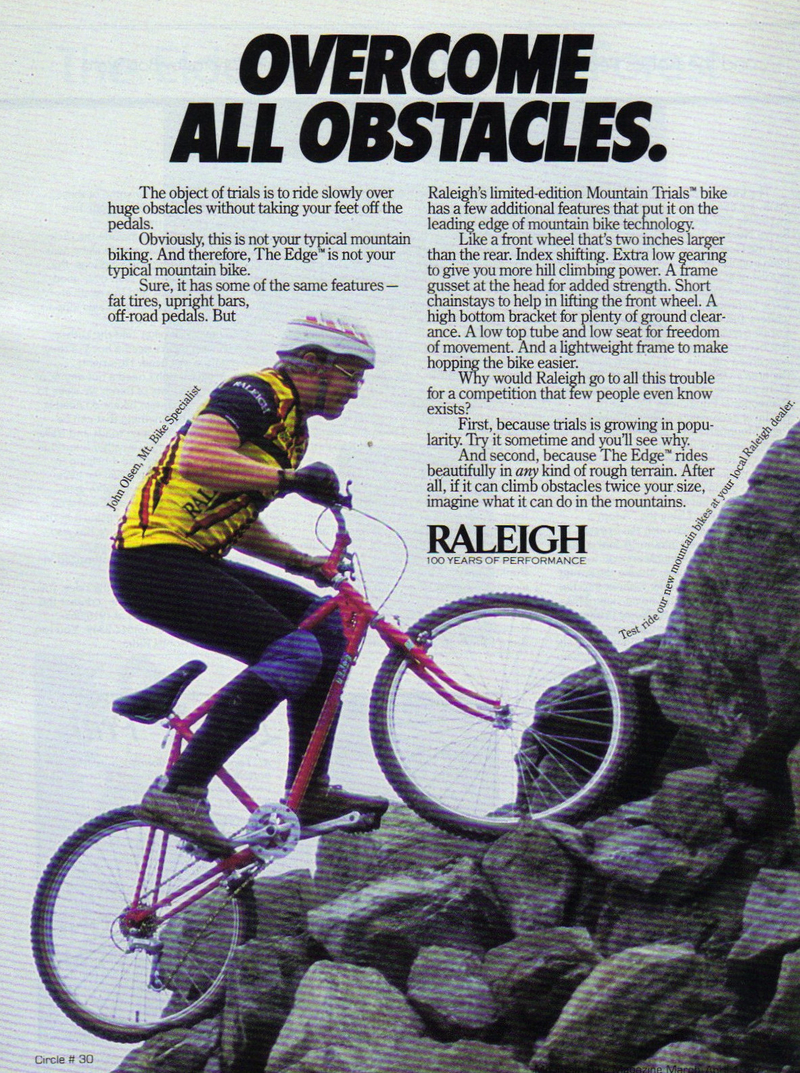 "John Olsen, Mt. Bike Specialist",
on a 1987 Raleigh Edge trials bike, designed by John Olsen. mombat

---
1982 Olsen
Co-created with Joel Jensen of Bellingham, WA. SunTour Honor derailleur (1978-82), XT M700 brakes (1982-83). The source article states that this is a 1983, which is quite possible. However, John started making MTBs in 1982 and this is one his first "4 or 5 frames." It also has many primitive details, such as only straight tubing for seat and chain stays, horizontal dropouts, BMX forks, & motocross handlebars.
I never used a front derailleur, and if you saw our trails, you'd know why! Remember, at this time, there were no strong enough freewheels, no good brakes, no good sealed bearings (that I could afford), and I broke rear derailleurs off like popcorn." John Olsen mombat
---
1983 Competition
A 1x trials mountain bike, with Ashtabula cranks, SunTour Cyclone Mark-II derailleur (1981-85), extra high bottom bracket with chain stay mounted derailleur protector. This example was featured in Bicycle Magazine, 1983.
---
1984 Raven
Built for trails & trials riding. Likely designed by John Olsen but fabricated by Art Morrison Enterprises, in Tacomah, WA. High bottom bracket. Based upon the Mongoose Kos Kruiser. All 40 Ravens were sold only by Mercer Island Cyclery, by Seattle, WA. One piece Ashtabula cranks. SunTour ? derailleur. Non-horizontal dropouts. Full internal cable routing (not all currently being used.) Non original fork and right crank arm. Water bottle mounts on stem and fork legs. Lowered seat post clamp.
---
1985 Trials
Shimano Deore XT v2 (1985-6)
---
1986+ Strange Bike
The bulk of John Olsen's later production has been in making seat-less "strange bikes." Who needs the weight of a seat when you can't use it? This example has been upgraded.
If anybody stole my Strange Bike, I could just walk down to the first corner, kick the guy a few times as he lay on the ground, and take my bike back. Not only did they have no seat, they also had right side front brake levers, the ULTIMATE in theft prevention. John Olsen mtbr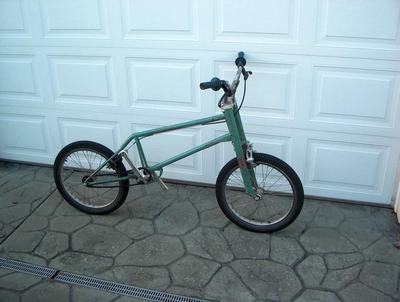 Strange Bike #9. Very primitive. mtbr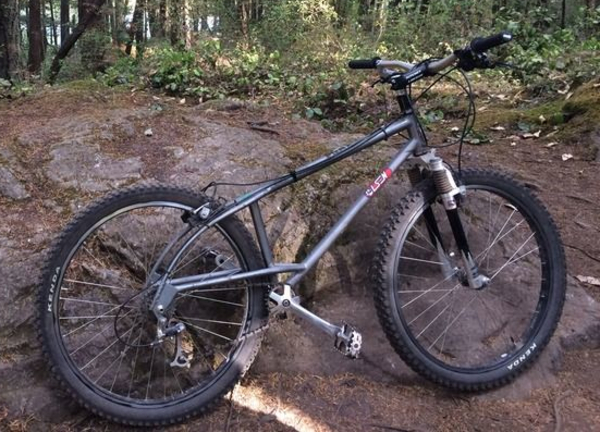 Strange Bike #12 mtbr
olsen/start.txt · Last modified: 2023/02/09 16:21 by mtbtimeline
---