Table of Contents
---
Beacon Cycle and Supply Co.
Harry Fluhr founded Beacon Cycles in 1950 with his sons Robert and Ed as a manufacturer of bikes and components in Milwaukee, Wisconsin. By the early 1970's, Beacon "was the largest bike distributor in the country that was not a bike manufacturer,"1) importing Mercier, Sekine, Giant, Junker, and Schauff bikes.
Bob was the first USA buyer of bicycles produced by Giant, the now world famous bicycle producer. At the time the Giant factory was quite small and still had dirt floors. Giant produced Beacon brand lightweight 10-speed bikes. Tony Lo and King Liu2) worked closely with Bob on the project. Howie Cohen, proteanpaper
Beacon was purchased by United States Industries in 1974, who then liquidated Beacon in 1978. Hence, no Beacons after 1977 should exist. And yet, the following two 1980s mtbs use the same logo and head badge found on their old road bikes.3)

Although their numbers are small (only five mtb examples are easily found on the web,) their unique and significant frame features recommend their inclusion into the timeline.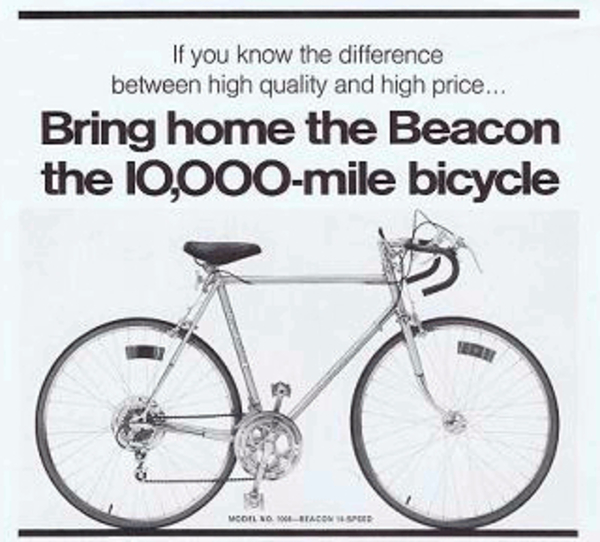 Bring Home the Beacon proteanpaper
---
1982 Beacon
TIG welded, SunTour AG Tech front derailleur (1981-84), Sugino TAT cranks (1981-84), Dia-Compe 980 brakes (1970s-80s), SunTour Mighty Shifter (1982, in this style4)), bullmoose bars, biplane forks, unique seattube cap, rear rack eyelets, and nice frame features overall.

It feels like a 1982 Stumpjumper, with the same fork as the Sport model. It would be nice to think that this is an early Giant or Sekine mtb, who didn't brand their own mtbs until the late 80s.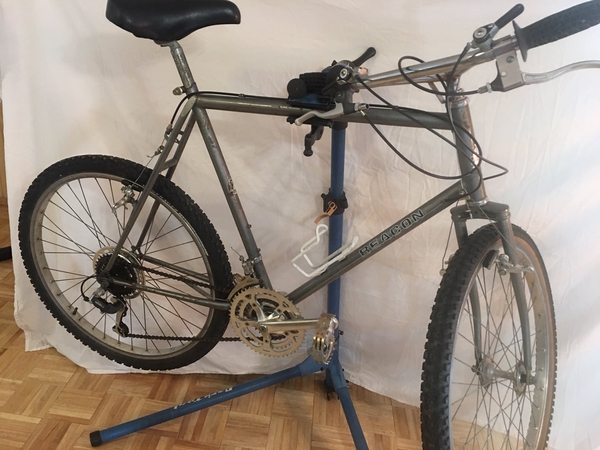 1982 Beacon facebook
---
1985 Beacon Prospector IV
The playful frame is reminiscent of something 3Rensho would attempt, with its built in shoulder strap. Note that the logo actually says "Prospector I IV".

Reuses the left over 1982 SunTour Mighty Shifters, along with SunTour MounTech II GTL front and back (1984-87), Polygon brakes (Taiwanese mid-80s,) Anlun A.ero crankset (Taiwanese mid-80's). The 1985 date is simply a guess.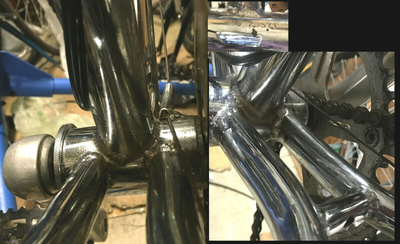 The serial number "appears" to be one letter followed by 7 digits: G6 123571, which doesn't seem to exactly match anything in the Serial Number Guide.

1985 Prospector IV shopotam.ru
beacon/start.txt · Last modified: 2023/08/07 19:57 by mtbtimeline
---