Table of Contents
---
Cycle Pro Bicycles
Another West Coast Cycles of Los Angeles project by Howie Cohen partnered with Kuwamara. Cycle Pro was a strong BMX brand from 1966-2013 under West Coast Cycles, which also distributed Nishiki and Norco mountain bikes, all initially made by Japanese partner Kawamura. 1)
Each year's model seems to be made from a different manufacturer. There's no consistency in seat clusters or forks. However, drop outs and braze-ons are consistent, probably because they're part of the spec & design. Yet Nishiki frames remained somewhat consistent over time - so perhaps Kawamura was not the principle supplier for Cycle Pro? And many Cycle Pro ATBs had a "Handcrafted By Kawamura" sticker on their chain stays.

Cycle Pro apparently stopped importing bikes by 1988 and resumed in the late 1990's.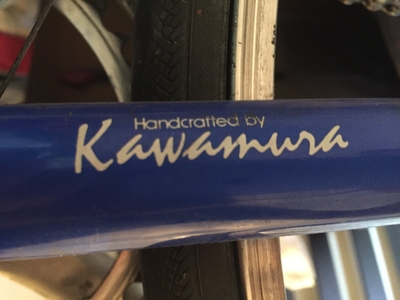 This pic actually comes from a Nishiki… bikeforums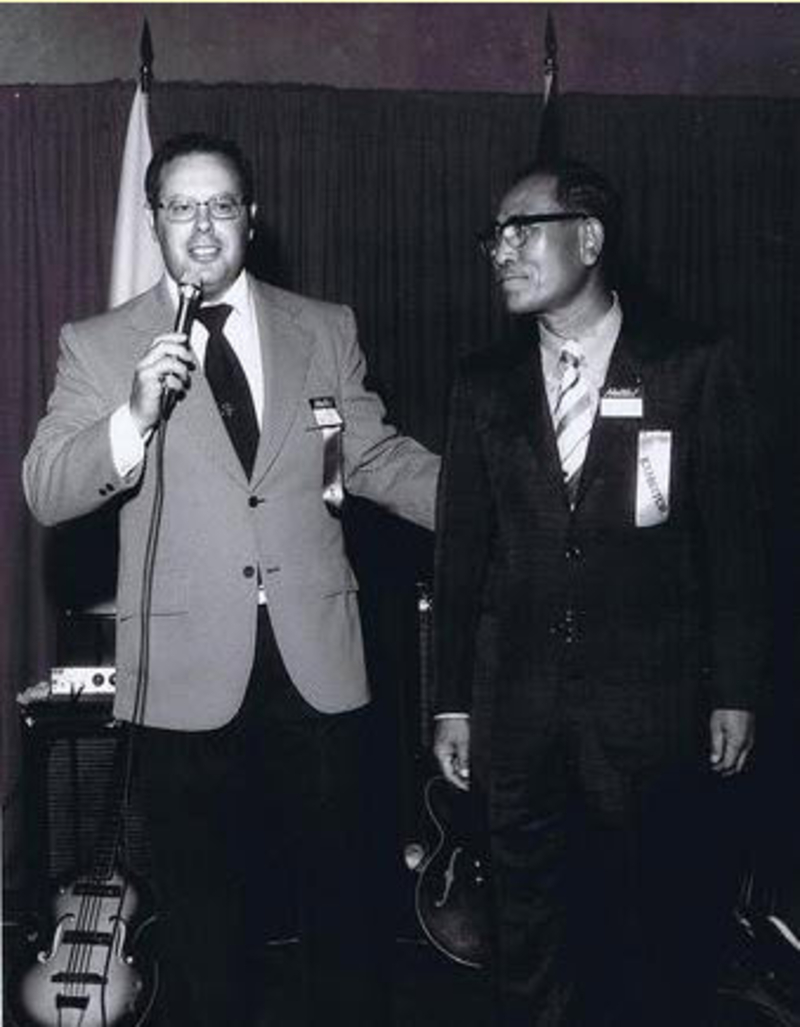 Howie Cohen with Yukio Kawamura, 1964
classicjapanesebicycles
---
1978 Snake Belly
Cycle Pro's biggest contribution to mountain biking was the first purpose built, lightweight off road tire, the Snake Belly. The following is copied from the section on tires:
Everything changed when the Snakebelly tire, the first lightweight fat tire, and the first wide aluminum rim made by Ukai became available. Now it was possible to build an awesome mountain bike! I started building CCPROTO in 1978, designing every part from the ground up for minimum weight and maximum performance2). Charlie Cunningham, from Jacqui Phelan's blog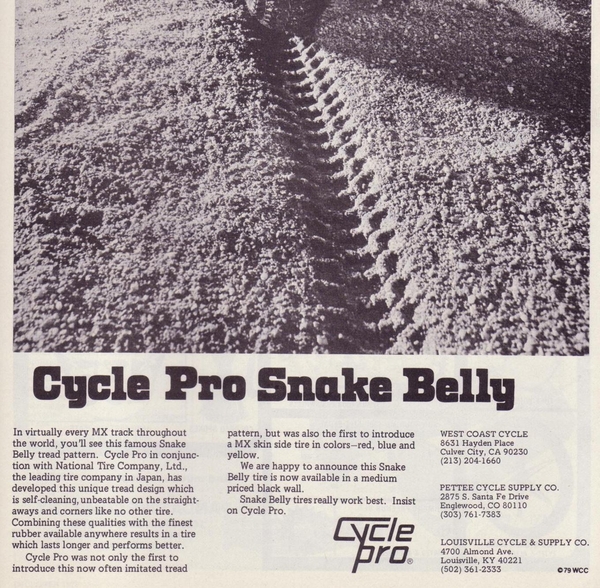 BMX Action, Nov 1979, bmxsociety
---
1982 Custom 5 26
15 gears. Few, if any, Cycle Pro Custom 5's came with a front derailleur. And many didn't come with a rear derailleur. They were advertised as mountain bikes in 1982 issues of the Fat Tire Flyer. Presumably the "5" means 5 speeds. 15 would make more sense…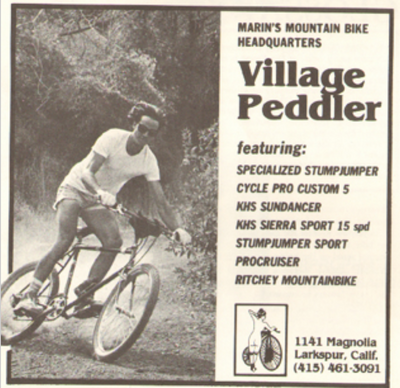 Fat Tire Flyer, Vol 3 No 2, March/April 1983, page 16 FTF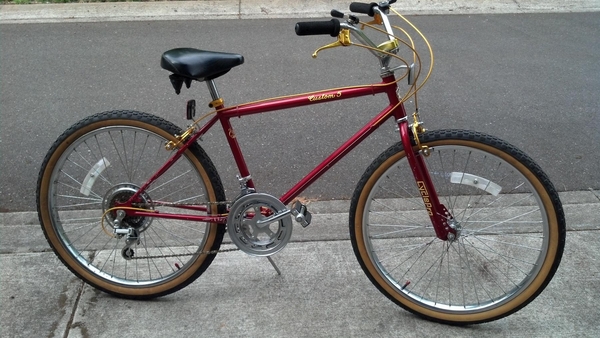 1982 Custom 5 bmxmuseum
---
1983 Ram
The bike to the right has a "Handcrafted by Kawamura" in Japan sticker. SunTour MounTech 4900 (1982-83).

The 1983 Skyline, as reviewed in Nov 1983 Bicycling mag cost $375, weighed 32 1/2 pounds, and had SunTour AG Tech front and rear.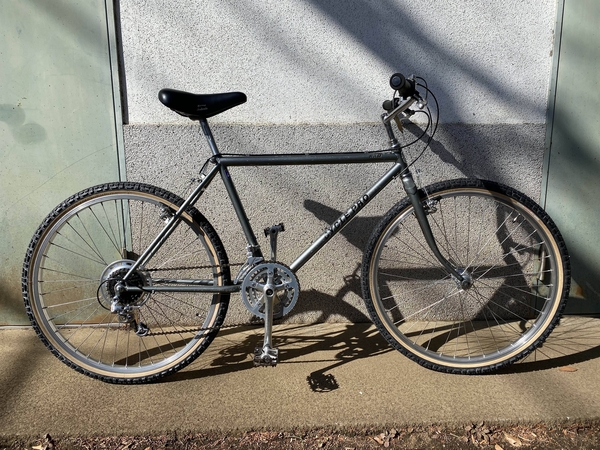 1983 Ram gino.shop-pro.jp
---
1984 Skyline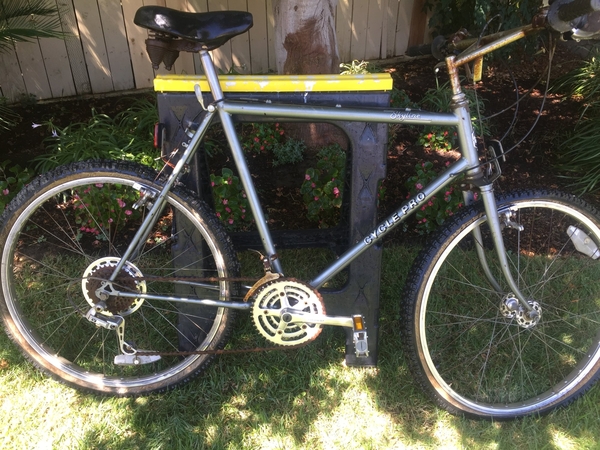 1984 Skyline thecabe
---
1985 Oswego
Drive side detailed pics available in link. Unicrown fork and non bullmoose stem. "Oswego" is an Iroquoian appropriation used by six small towns across the US, none of which are mountainous.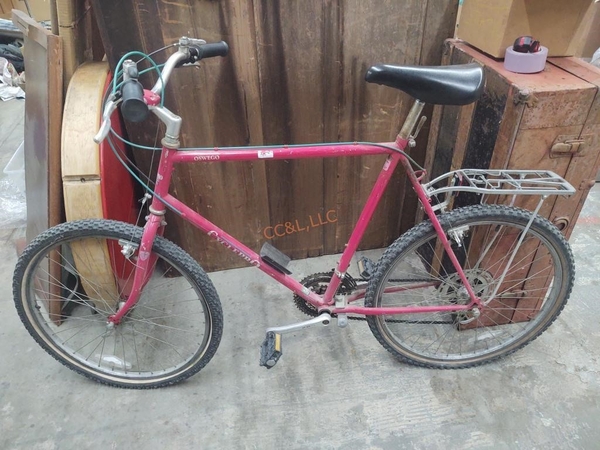 1985 Oswego completecleanouts
---
1986 Arroyo
Unknown components. Assuming the museum knows best on dating.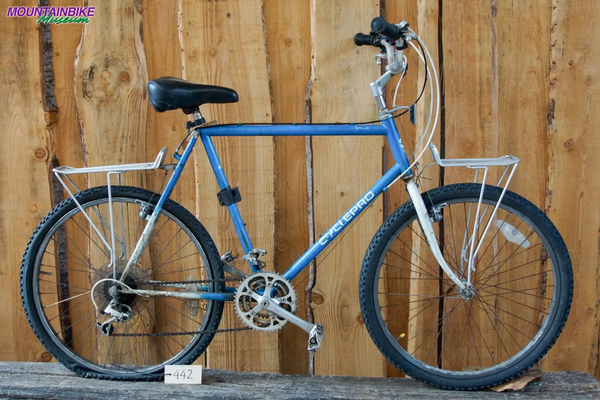 1986 Arroyo mountainbikemuseum.nl
---
1987 Skyline
SunTour XC Sport 7000 (1987-88), Dia-Compe u-brakes. Pic from Bicycling magazine review.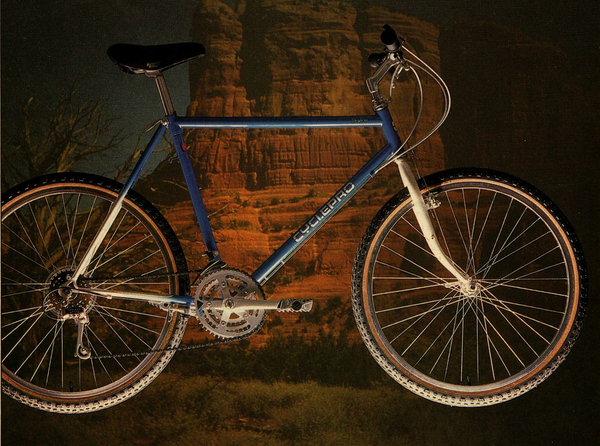 1987 Skyline, Bicycling March 1987 bikeforums
---
1988 Millennium
Shimano Deore MT60 (1987-88)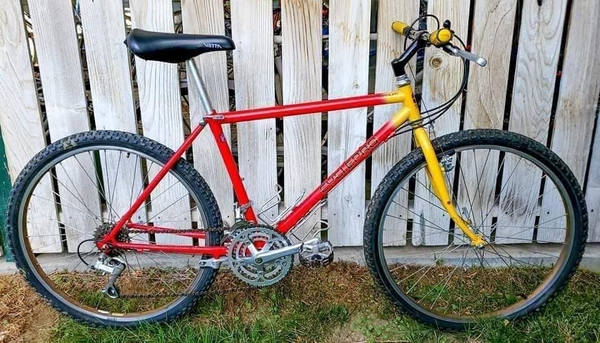 1988 Millennium facebook
cyclepro/start.txt · Last modified: 2023/08/05 13:10 by mtbtimeline
---