Table of Contents
---
J. P. Weigle Cycles
J. Peter Weigle opened J. P. Weigle Cycles in Lyme, Connecticut in 1977, making road racing and randonneur bicycles, and introduced a few mountain bikes starting in 1982. Peter Weigle's craftsmanship has earned him a many year waiting list or custom orders. With many wins at NAHBS, JP Weigle is considered to be the finest custom frame builder currently active in the United States.
Info from: core77, flickr, oldschoolracing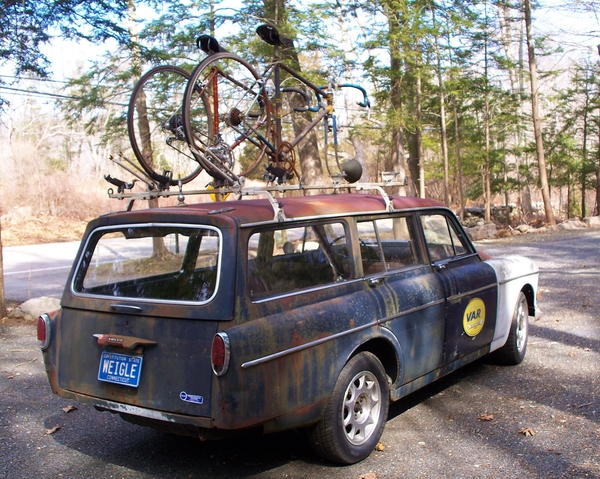 Weigle Team truck. Volvo design remains his inspiration. flickr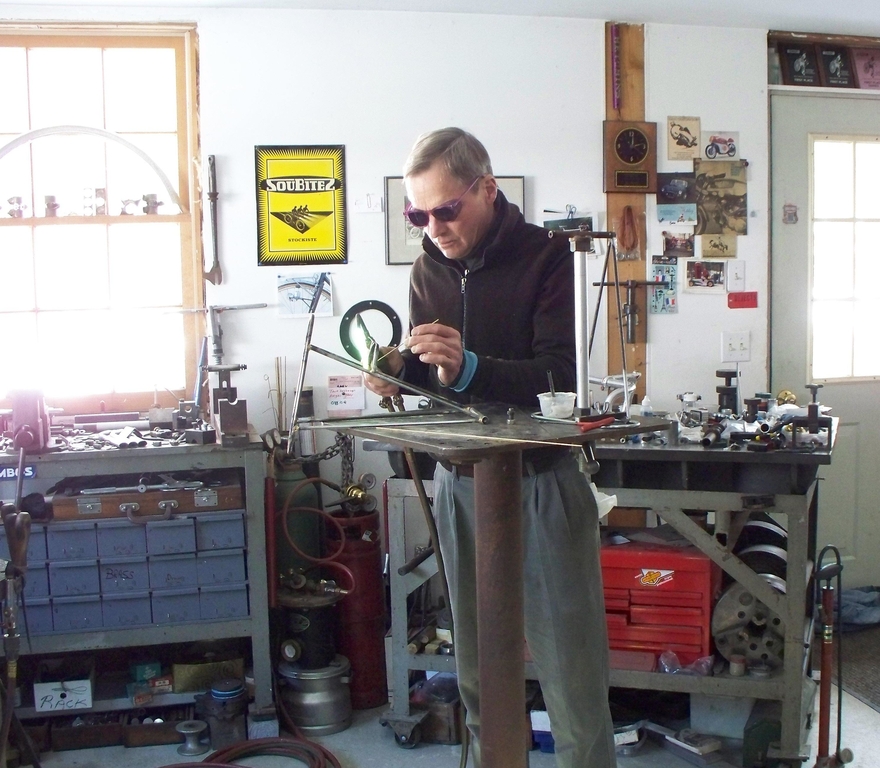 Peter brazing a rack in his shop. flickr
---
1983 Ice Cycle
Built for the 1983 International trade show in the NY Coliseum. Foam core inserts anchored 100's of sheet metal screws. The pic has SunTour SuperBe Tech GTL (1984-5,) as the bike was later rebuilt to ride on pavement and dirt.

There are no decent pictures of JP Weigle's 1982 bikes, so the timeline starts at 1983…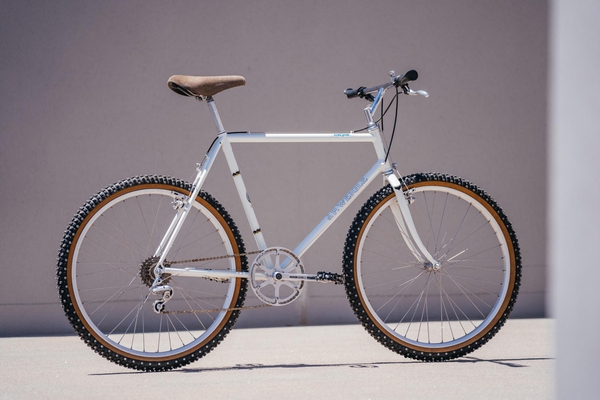 Ice Cycle theradavist
---
1984
This bike was made in late 84, early 85…The fork blades and dropouts are Koski Bros., very thin,, very light. I had them filled with Cerro bending alloy when I raked them so they wouldn't buckle and distort.


The bike on the scale, (less pedals, cranks and it's Ti bracket) weighed in at 20 pounds plus a few ounces. With the light parts that go on it she'll be around high 21's or maybe 22 lbs. I raced the hell out of this back in the mid to later 80's… Maybe I should set it up tubeless to drop a few more grams??? Hmmm. Peter Weigle, flickr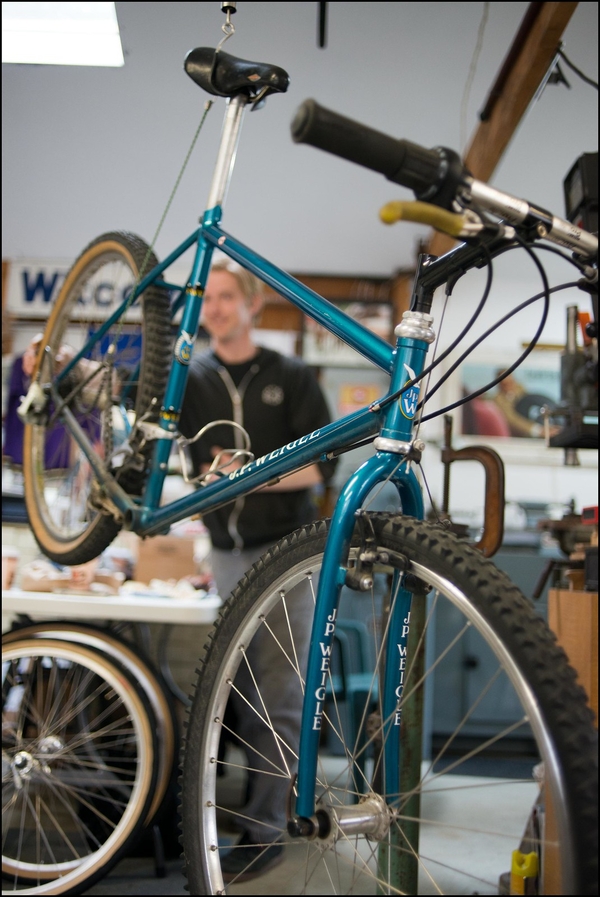 1984 flickr
---
1985
SunTour XC-6300 (1985)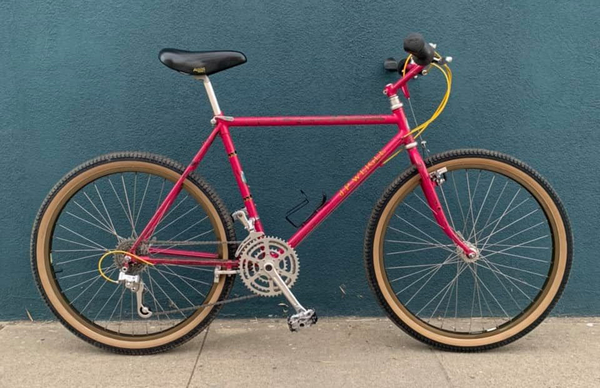 1985 instagram
---
1987
Lugged and fillet razed, quadruple front crankset with 4×6 gearing, Shimano Deore XT M730 derailleurs.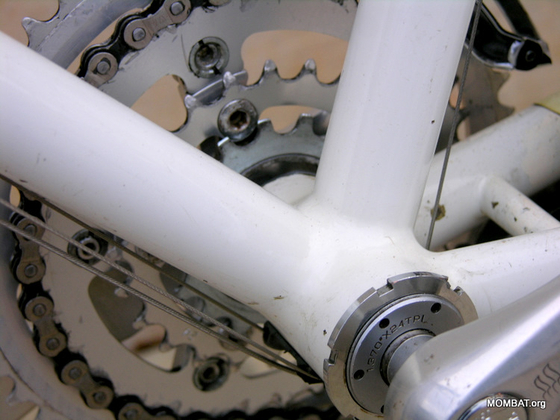 Quadruple! mombat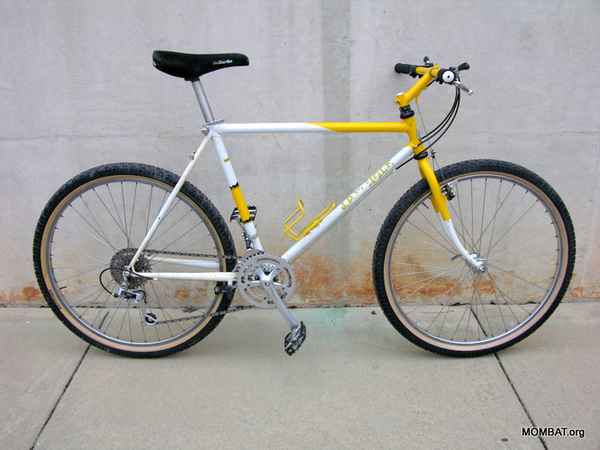 1987 mombat
---
1990
SunTour rings, probably XC Pro MD (1990-94), Shimano XT rear derailleur, probably a M735 (1989-93).

1990 facebook
---
1991
Mavic 845 derailleurs (1991)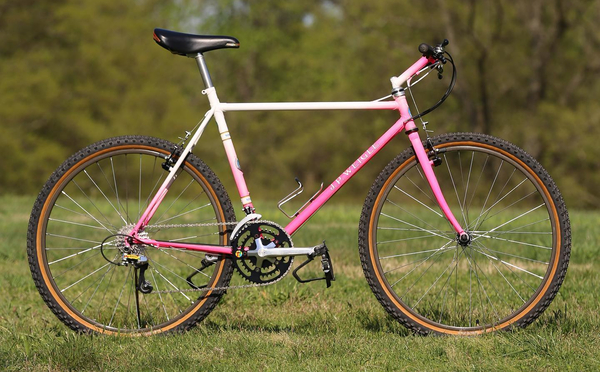 1991 instagram
---
Details
The Bruce Gordon of the East, J.P. Weigle's details are understated yet masterful.
If you go to a lot of other shops, they call their shops 'studios.' This is my shop. I don't enjoy Rococo lugs and things that look like if you watered them they'd grow. I want each line to mean something, each thing is supposed to take you somewhere. Peter Weigle, Kingdom Magazine
weigle/start.txt · Last modified: 2022/05/25 15:47 by mtbtimeline
---