Table of Contents
---
Breezer Overview
Joe Breeze developed the first purpose built, successful mountain bicycle. He was part of the original community in Marin which raced on Repack. In 1977, Charles Kelly commissioned Joe Breeze to build a custom mountain bike to improve upon the heavy and fragile clunkers that were being used to race Repack.1)

Breezer Bicycles, now owned by ASI/Fuji2), continues to make decent mountain and town bikes: https://www.breezerbikes.com/
For a gallery of most of Joe's bikes, see: vintagemtbworkshop.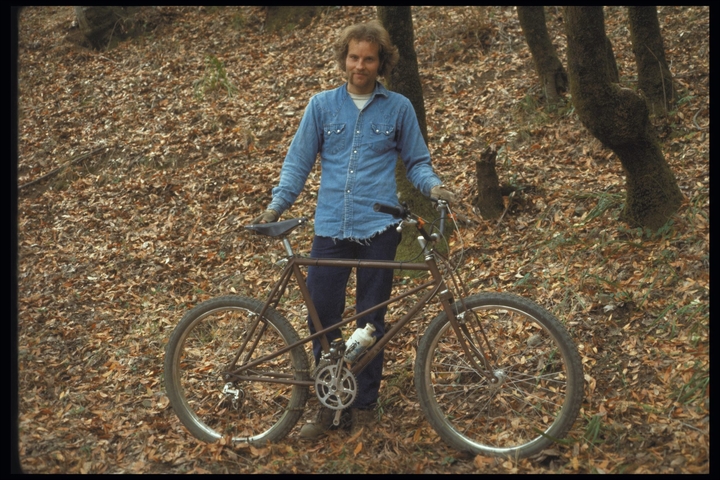 Looking proud. mmbhof.org
---
1977 JBX1
Touring components included SunTour Compe-V derailleurs3) with Spécialités T.A. Pro 5 Vis Cyclotouriste cranks. It had 32×26 lowest gearing and a weight of 38 pounds and it was just good enough to get up Pine Mountain. Later Series I would improve their low gearing. Ritchey solved the weight and gearing problems the following year with a low gear of 28×32 and a weight of 30 pounds. Both Joe Breeze and Tim Ritchey would improve their specs over the next few years, by which time mountain bikes took off. Built September, 1977. More JBX1 info at: oldschoolracing.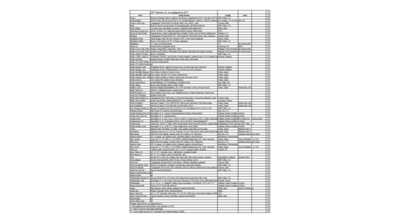 JBX1 specifications Smithsonian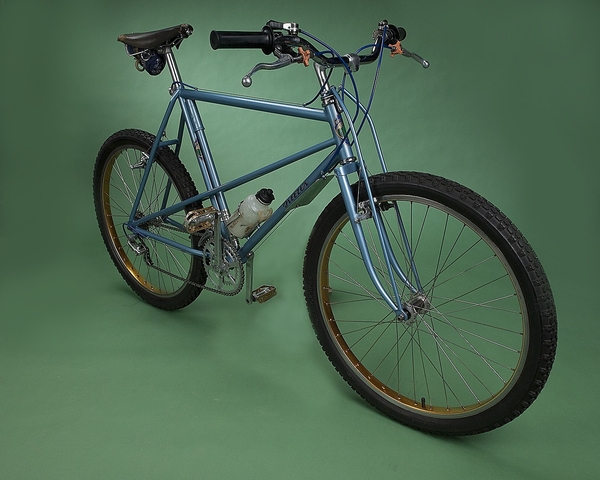 JBX1, the origin of the species. Smithsonian
---
1978 Breezer Series I
And the concept was proven. It's very different than a clunker.
Breezer Series 1 used a Shimano 600 derailleur, which had a 28T capacity, the same as the old Gran Sport.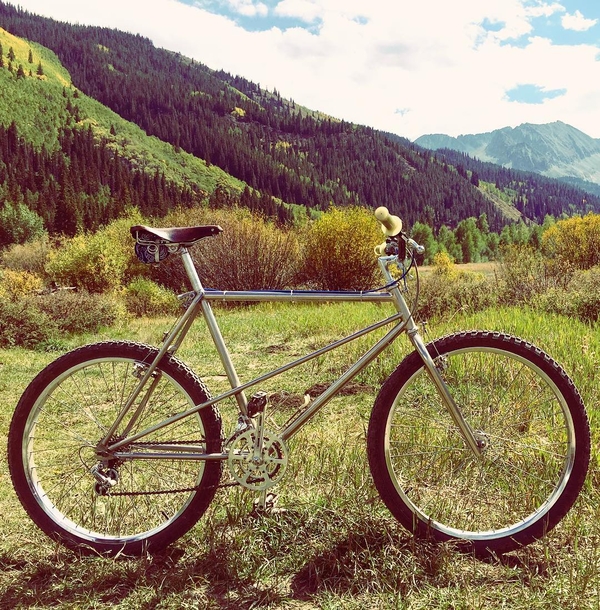 1978 Series I. MMoB
---
1980 Breezer Series II
Twin-lateral dropped, weight and gearing improved. Already there were a dozen competing bike designs.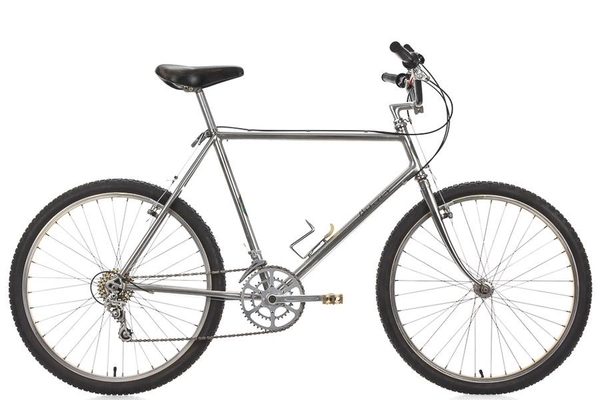 1980 Series II. The Pro's Closet
---
1982 Breezer Series III
Joe Breeze planned to make 60 of these, but his new successful Hite-Rite took much of his attention.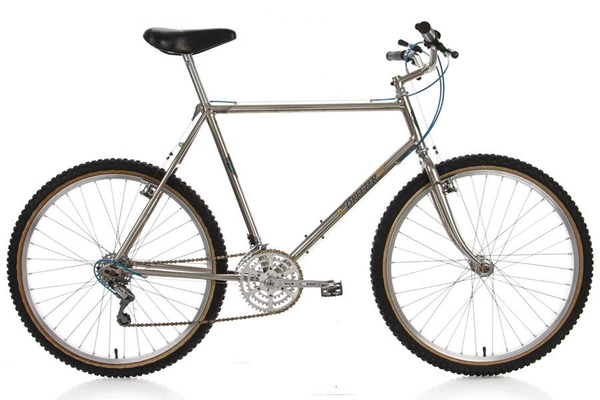 1982 Series III. The Pro's Closet
---
1984 Hite-Rite
Joe Breeze finally achieved commercial success.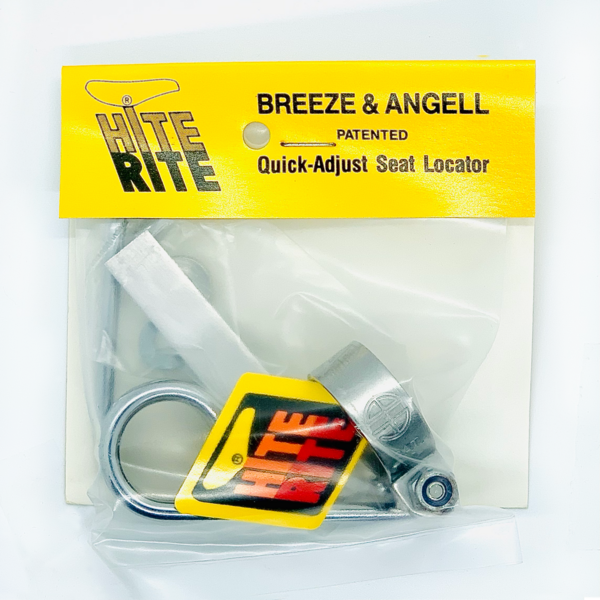 1984 Hite-Rite. 37 years later, and eBay remains flooded with them.
eBay
---
Joe Breeze Road Bike
Joe started frame building in 1974 building road racing frames. He enrolled in a frame building class taught by Albert Eisentraut with fellow student Bruce Gordon. The pic to the right is Otis Guy racing on JB002 near Monterey. It's interesting that Joe & Otis later went to Tom Ritchey to have their cross country race tandem built.
This is a picture of me racing at Laguna Seca by Wende Cragg MBHOF inductee. I am riding the second frame Joe Breeze ever made. Wende has it in 1979 it may be 78. Check out the Sunshine cap over the hairnet helmet. Otis Guy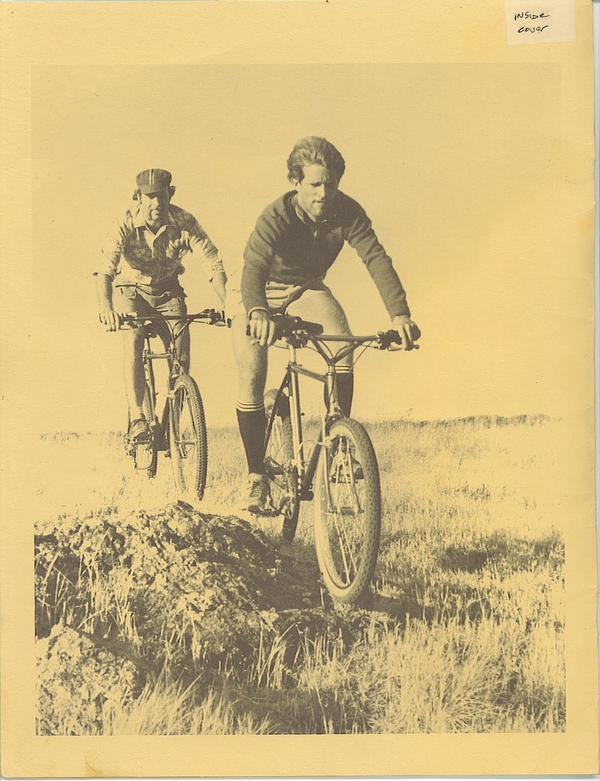 Joe Breeze (left) with Monte Ward, 1982 on Ritcheys 1982 MountainBikes Catalog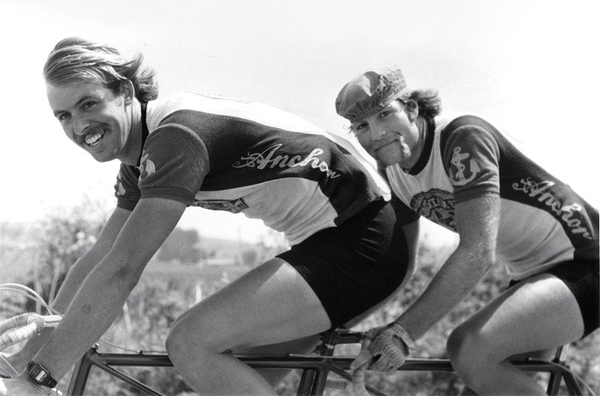 Otis & Joe on the Anchor Steamer Ritchey mountainflyermagazine
photo by Wende Cragg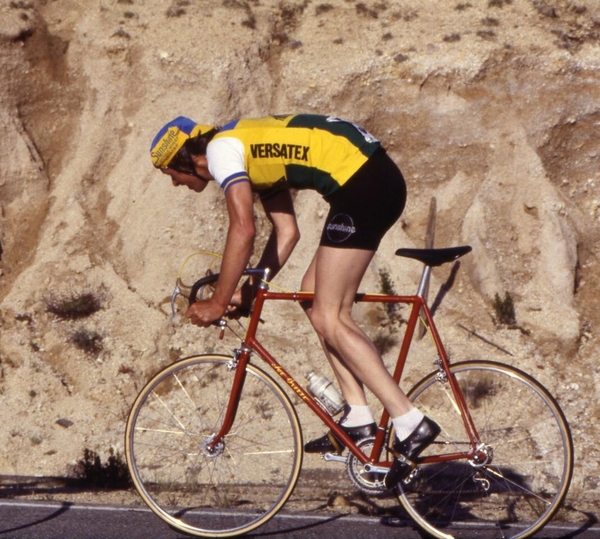 Otis Guy on an early Joe Breeze instagram
photo by Wende Cragg
---
More Pics
Because why not?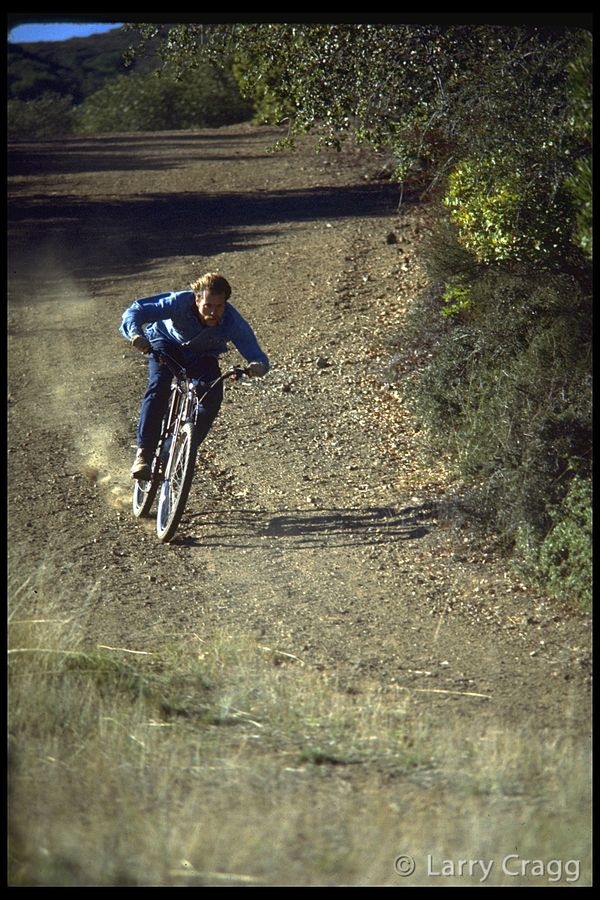 Joe Breeze on Breezer #1 swooping through Upper Dipper, Repack, Late 1977.
photo by Larry Cragg,mmbhof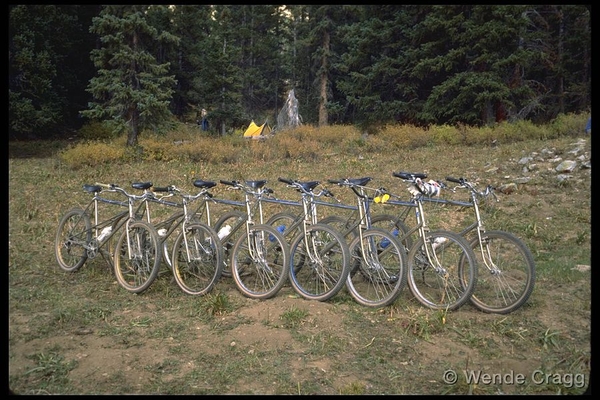 Line up of Breezers above Crested Butte, Colorado at Cumberland Basin camp, Fifth Annual Crested Butte to Aspen Pearl Pass Klunker Tour, September 1980.
photo by Wende Cragg,mmbhof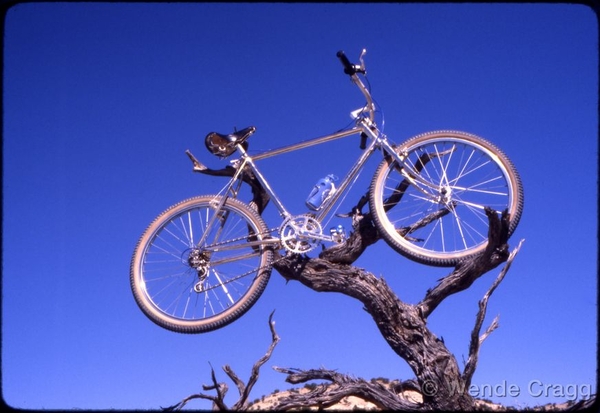 Joe Breeze's nickel-plated 1980 Series 2 Breezer in a tree near San Rafael Reef, Utah. Shot on way to Crested Butte for the "Pearl Pass Klunker Tour," September 1980.
photo by Wende Cragg,mmbhof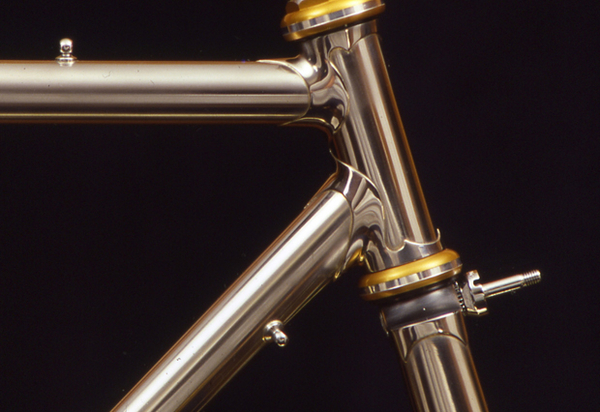 Polished steel frame made for sculpture show, photo by Joe Breeze, 1980 retrobike
---
Production Notes
3)
Although, the Smithsonian pic has a Shimano 600 EX with a longer (custom?) cage
breezer/start.txt · Last modified: 2022/10/24 11:15 by mtbtimeline
---