Table of Contents
---
Highpath Engineering
David Wrath-Sharman founded Highpath Engineering in Guildford, England in April of 1983, manufacturing custom cross country bicycles specifically tailored for the damp British terrain. David was the Charlie Cunningham of the UK, producing a small number of "ground-breaking individually crafted works of art."1)

Early on, Highpath Engineering made copies of Geoff App's Aventura British mountain bike, with some modifications:
asymmetric rear triangle to support an undished rear wheel

wider bottom bracket for tyre clearance

upgraded brakes

extra ovalized EGGrings

SwingCam adjustable rake hubs
Highpath would often take existing Aventuras and upgrade them to Highpath Specifications, producing a dual branded Highpath/Cleland bicycle.

Other unusual features of Highpath bikes would often include:
two or three top-tubes

custom, extra strong hub brakes

bullmoose bars with a quick release

very large chainring guards

tire and chain mudguards and built-in racks
So many vintage Highpath photos show bikes so covered in muck that derailleurs and components disappear - and the advantages of hub brakes become manifest. Dating invisible components is difficult. David Wrath-Sharman states that he started production in 1983 and elsewhere it's stated that the first Highpath Cleland clone came out in 1985, presumably after Cleland went out of business in 1984. This timeline will start in 1983, often based upon people's claimed dates with a small amount of component dating and wishful thinking.
I was aware of Mountain Bikes but dismissed them. My aim wasn't racing downhill but riding across country quietly, and as unobtrusively, as possible… David Wrath-Sharman wrathsharman
Sources:
The following quote by George Bernard Shaw was aptly used to describe David Wrath-Sharman:
You see things; and you say "Why?" But I dream things that never were; and I say "Why not?" George Bernard Shaw bartleby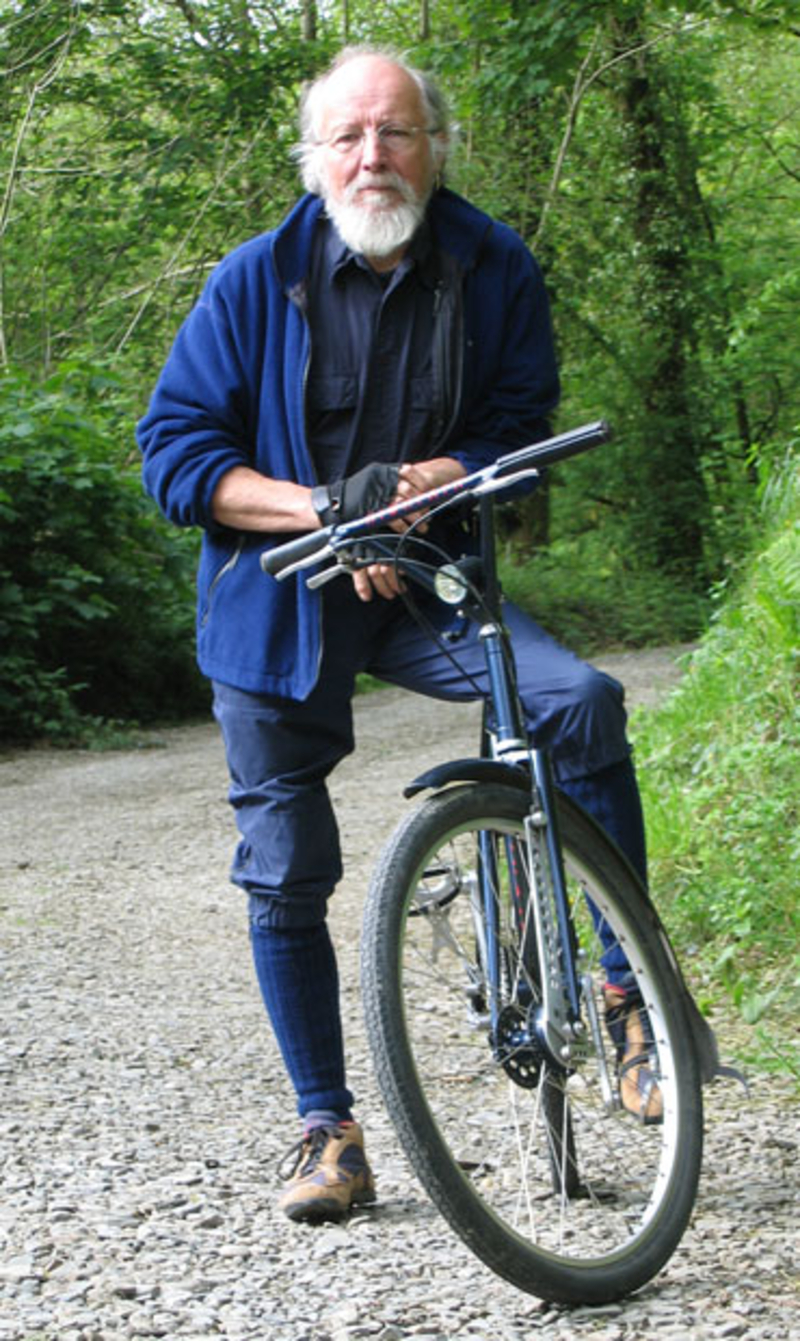 David Wrath-Sharman on Big Blue wrathsharman
---
1983 Phoenix
SunTour Vx? (1977-85). Center pull caliper brakes, no front derailleur. Narrow 650a tires. Modified from a Raleigh Palm Beach donor frame. On the way towards becoming a mountain bike. The Phoenix was Highpath Engineering's first bicycle.
I had the idea of a bike for cross-country - a 'bridleway bike'. It would need a high BB for pedal clearance; steep angles and plenty of trail just like my old track bike. One morning I purloined my partner's Raleigh Palm Beach bicycle and took it to my workshop. I cut and rewelded the chain-stays to lift the BB and increase the steering head and seat tube angles to roughly 74 degrees, replaced the seat stays, straightened the forks to increase the trail and brazed a pair of stays from the bottom of the head tube to the top of the seat tube thereby tuning the frame into an immensely strong structure and the Phoenix was re-born – (this was the seed stock of the later HighLight frame). ca. 1983, David Wrath-Sharman
https://www.wrathsharman.com/history.html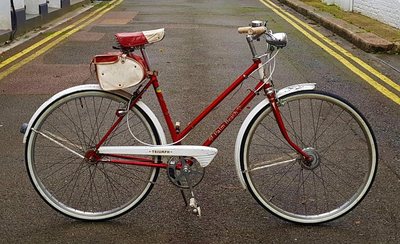 1962 Triumph/Raleigh Palm Beach. facebook
---
1984 Highpath
Bullmoose bars with a quick release. Non-drive side pic with unknown components. Based upon (or a modified copy of) the Cleland Aventura.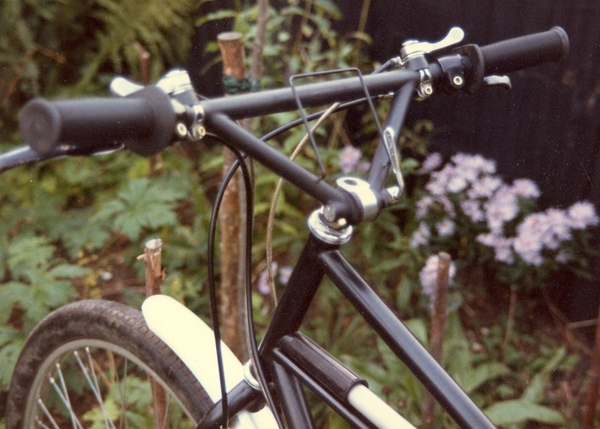 Bullmoose bars with a quick-release. mtbr
---
1985 Cleland Highpath
Highpath Engineering took both inspiration from Cleland and modified specific examples. This dual branded examples started out as a 1983 Cleland and was extensively modified into a Highpath in 1985.
---
1986 Hi-Lite
Super ovalized rings. Twinned (mixte?) top tubes. Biplane fork, internal hub brakes, up rite bullmoose bars. Dual headtube water bottle mounts. SunTour AG?? derailleur.
---
1988 Highpath
The owner calls this a Cleland Highpath but the welds, braze-ons, drop-outs, etc are not Cleland. Given that it was constructed five years after Geoff Apps stopped making the Aventura, perhaps this is an original Highpath frame? Super steep bullmoose bars. The usual hub brakes with adjustable rake. Very large chain mud guard. Off the rack racks.
---
1989 Highpath
Bullmoose bars with quick release. Shimano Deore MT60 derailleur (1987-88). Fork mounted bottle cages.
---
1991 Big Blue
Unknown components, probably Shimano with a custom cage plate. A later copy of his early work, featuring EGGrings, bullmoose bars, extra downtube, adjustable rake hubs.
highpath/start.txt · Last modified: 2023/02/16 16:04 by mtbtimeline
---