Table of Contents
---
Mountain Cross Racing
Brian Skinner, a "disciple of Victor Vincente of America 1), designed the first rear suspended downhill mountain bike in 1983, constructed by VVA. Brian later worked for Shimano, helping to develop SIS shifting, SPD, and rapidfire shifting. 2)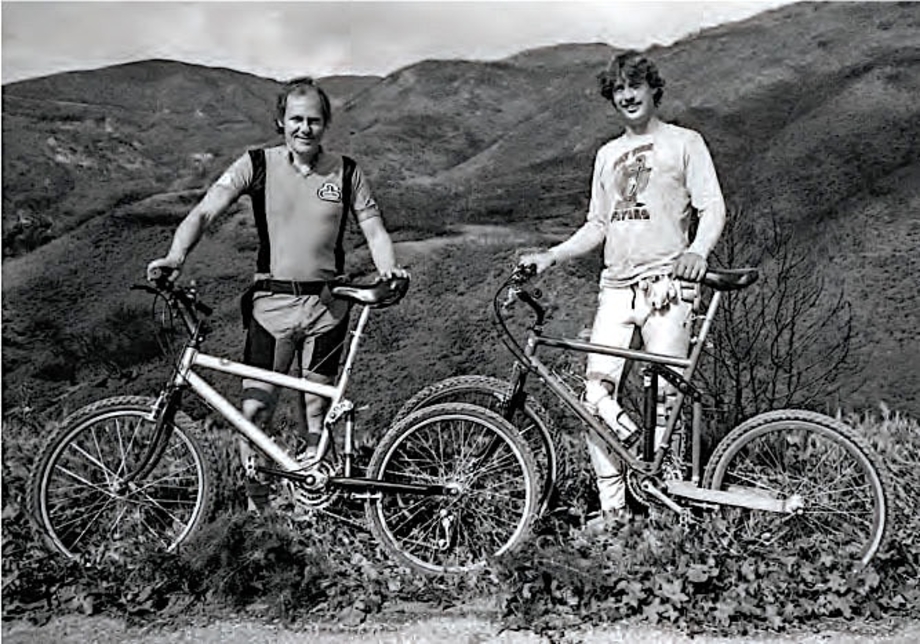 Dan Hanebrink and Brian Skinner
mbaction
---
1983 Skinner Descender
Rear disk brakes! Honda motorcycle shocks, headset and cabling. 6 1/2 inches of rear travel. 26" front and 24" rear. Weighing in at 50 pounds. May have been constructed in 1982. Raced by Brian Skinner in 1983.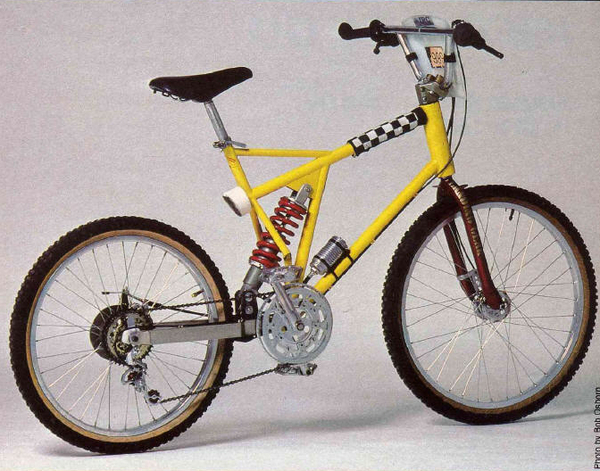 1983 Skinner Descender mombat
---
1984 Descender
When BMX magazine published its Fire Road Racer article on the MCR Descender, interest and demand grew and Brian partnered with Dan Hanebrink to create an improved version with nearly 20 pounds shaved off the bike. Skinner raced the Descender at the final 1984 Repack race, where chain problems prevented him from making the podium. Weight: 31 pounds.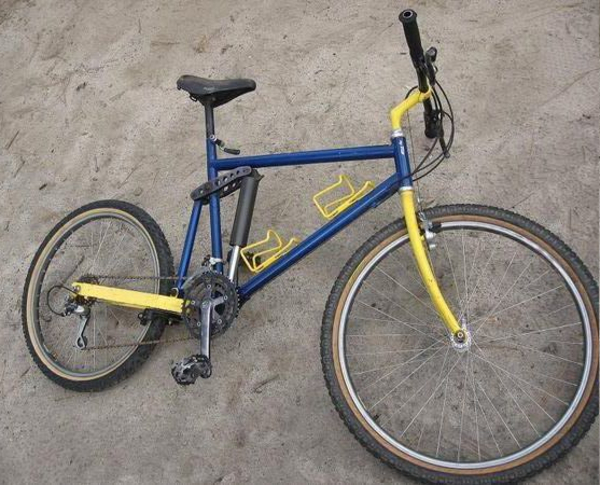 1 of 24 made? socaltrailriders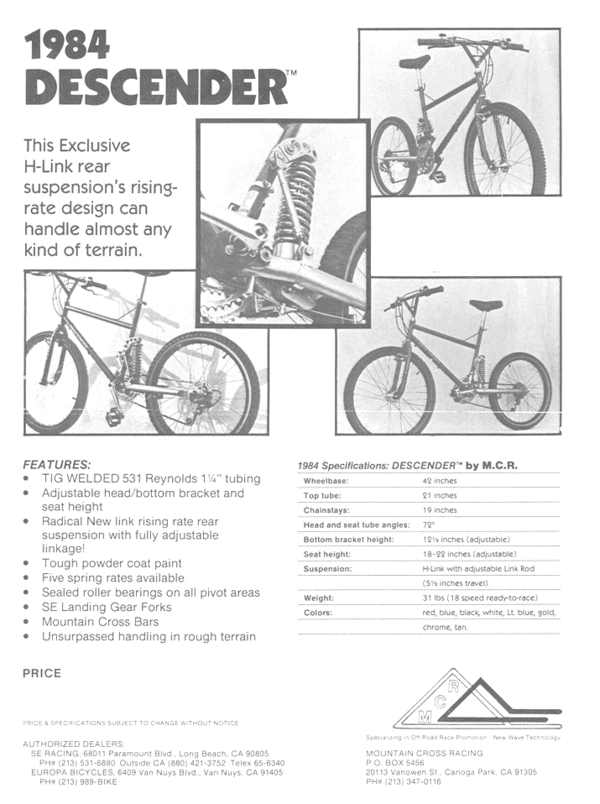 1984 Descender mombat
---
1985 Descender
John Parker, founder of Yeti prototyped this, with a design inspired by the Kawasaki KX250. 75 of these were built by Champion Bikes.

1986, and 87 were good years for the Descender, and we started to gain momentum on sales, advertising, and articles. The bike preformed well at races with Kye Sharp winning Big Bear XC and DH events.

Sadly in 1987 I had to make a decision; Shimano wanted to make my position official, but I would have to give up the MCR business a conflict of interest. Brian Skinner, mombat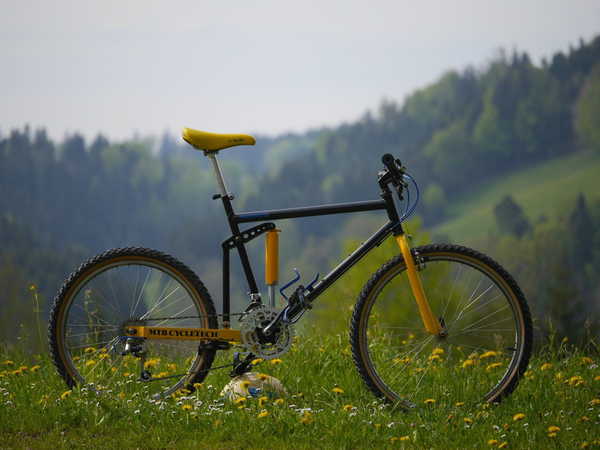 1985 Descender mombat
---
The Birth of Suspension
Dan Hanebrink parted ways with Brian in 1984 and brought his suspension design ideas to BMX maker SE Racing, which produced the 1985 Shocker, which is nearly identical to the 1984 Descender.

On his own, Dan made a handful of "descenders" with his own name on them. See: mombat


1984 Hanebrink mombat

Compare these bikes to a 2003 Specialized Big Hit Pro: 26" front wheels, 24" rear and 6.5" of rear travel. Price: $4340. Weight: 41.5 pounds.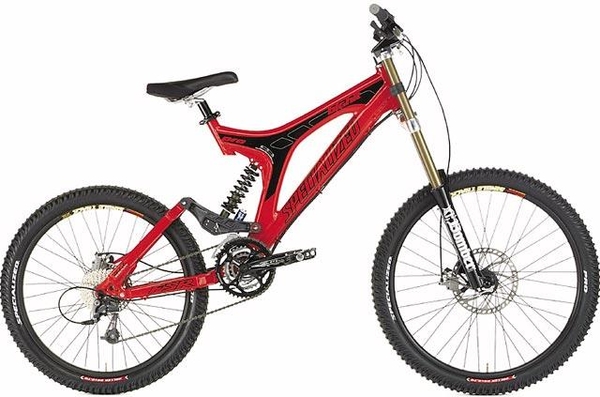 2003 Specialized Big Hit bicylebluebook
Fully suspended BMX with drum brakes. It was achingly close to being a decent downhill bike, but not really.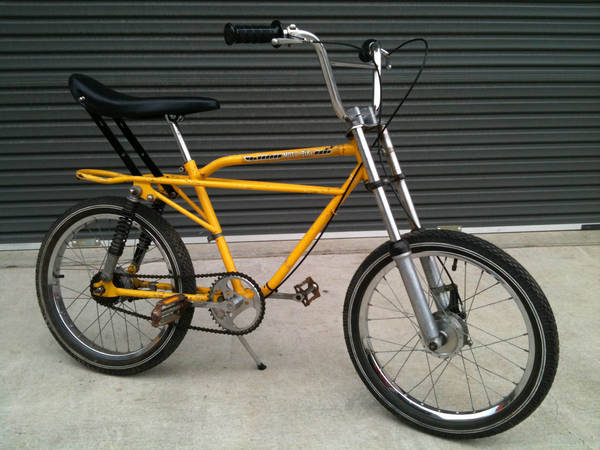 1975 Yamaha Moto-Bike bmxmuseum
1977 Huffy Thunder Trail: BMX bikes have had rear shocks for some time. I personally jumped a Thunder Trail many times off a friend's backyard ramp in the 70's. It worked. But not for long…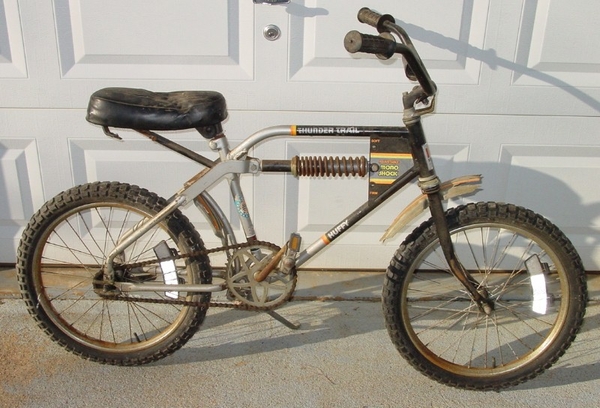 1977 Huffy Thunder Road bmxmuseum
1984 3Rensho prototype with perhaps the first front suspension mountain bike with disc brakes. What was the earliest fully suspended bike?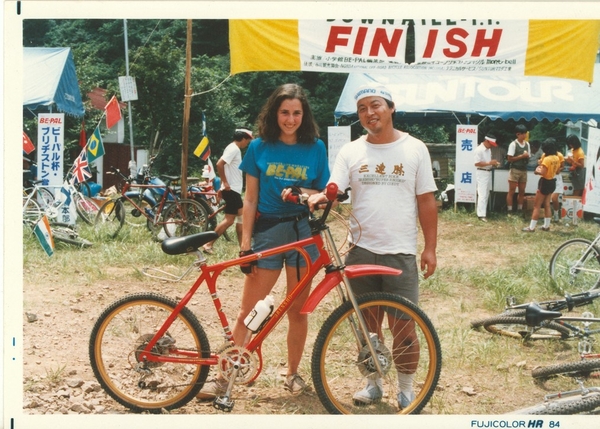 1984 3Rensho, with Denise Caramagno, during a scouting trip in Japan for suppliers with Tom Ritchey and Charlie Kelly. mtbr entry by Charlie Kelly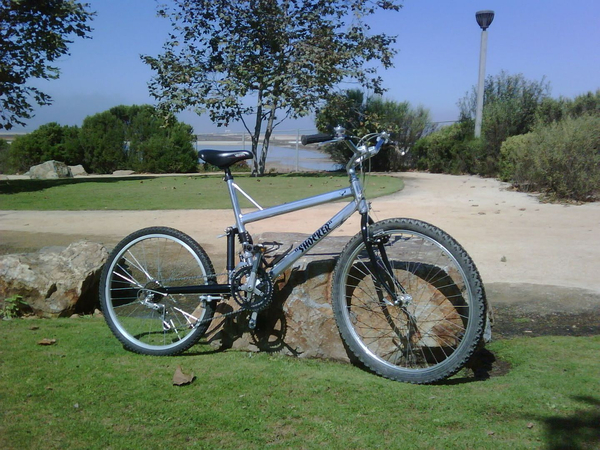 1985 Shocker bmxmuseum
Production Notes
[1]. 1

[2]. 10?

[3]. 30? 3) In total, from 1983 → 1987, 100 Descenders were made, according to Skinner: mtbr
mcr/start.txt · Last modified: 2023/02/27 13:32 by mtbtimeline
---